Adani Power has partnered with Japan's IHI, Kowa, to develop ecologically sustainable power generating.
The billionaire Gautam Adani-led company Adani Power Limited (APL) announced on March 22 that it has reached an agreement with two Japanese companies, IHI Corporation and Kowa Company Ltd. (Kowa), to work on ecologically sustainable power generation.
IHI Corporation and Kowa Company Ltd. (Kowa) have signed a Memorandum of Understanding (MoU) to examine the viability of modifying the Adani Power Mundra Coal-Fired Power Plant to achieve a 20% liquid ammonia co-firing ratio and then extending this to a ratio up to 100% mono-firing.
About Adani Power
Adani Power Limited , a subsidiary of the Adani Group, is the country's largest private thermal power generator. We have a total aptitude of 12,450 megawatts (MW), including thermal power plants in Gujarat, Maharashtra, Karnataka, Rajasthan, and Chhattisgarh along with a 40-megawatt solar power project in Gujarat.
It is an Indian corporation, with headquarters in Khodiyar, Ahmedabad, Gujarat and is a privately owned thermal power plant with a capacity of 12,450 megawatts (MW). It also operates a 40-megawatt solar project in Naliya, Bitta, Kutch, Gujarat. It is India's first supercritical technology synchronization company.
In Jharkhand, Adani Godda Power is building a 1,600 MW power plant. With the governments of Gujarat, Maharashtra, Haryana, Rajasthan, Karnataka, and Punjab, the business has inked long-term power purchase agreements totalling 9,153 MW.
Mr. Gautam S. Adani and Mr. Rajesh S. Adani, along with their families, founded the company in the first place. On June 3, 2002, the company was converted to a private limited company, and its name was changed to Adani Power Pvt Ltd. Mundra Port and Special Economic Zone Ltd received the whole equity of the company in 2004 as a result of internal reorganization among the Promoters (MPSEZL).
Following that, on May 29, 2006, MPSEZL sold its whole stake in the company to Adani Enterprises Ltd. The Government of India approved the company's proposal for the development, operation, and maintenance of a sector-specific Special Economic Zone in the villages of Tunda and Siracha Taluka Mundra Gujarat on December 19, 2006.
The corporation is in the business of power generation, distribution, and supply, as well as general electricity trading, as well as exploring, developing, accumulating, distributing, and trading in different types of energy from any source. The company currently has a total generation capacity of 10480 megawatts (MW), with 4620 MW located in Mundra, Gujarat. Tiroda, Maharashtra, 3300 MW Kawai, Rajasthan, has 1320 MW, Udupi, Karnataka, has 1200 MW, and Kutch, Gujarat, has 40 MW (solar).
Adani Power was the first business in India to build and commission 660 MW supercritical power plants. Adani Power Ltd was founded on August 22, 1996, and acquired its certificate of incorporation on September 4, 1996.
Adani Power stated on March 4, 2015, that it had signed a final Share Purchase Agreement with Avantha Power & Infrastructure to acquire 100 percent of Korba West Power Co. Ltd. (KWPCL). The deal's enterprise value is estimated to be roughly Rs 4225 crore, and it will be funded through a combination of acquisition debt and cash.
Adani Power's Board of Directors accepted the plan to transfer the company's 90.91 percent equity stake in Adani Transmission (India) Ltd. to Adani Transmission Limited a Wholly Owned Subsidiary of Adani Enterprises Ltd. during its meeting on January 16, 2015.
In keeping with the "India-Japan Clean Energy Partnership (CEP)" launched by the Indian and Japanese governments on March 19, 2022, this research contributes to India's carbon neutrality. This would strive to strengthen energy cooperation between Japan and India by utilizing a variety of energy sources and technologies to provide energy security, carbon neutrality, and economic growth.
Furthermore, the parties aim to conduct parallel research and development, demonstration, and commercialization with Japan in order to achieve early worldwide adoption of the fuel ammonia supply chain.
At its meeting on January 17, 2018, Adani Power's Board of Directors accepted the company's subsidiary Adani Power (Jharkhand) Limited's proposal to build a 1600 MW Ultra-Supercritical Thermal Power Project in Godda, Jharkhand, at an estimated cost of Rs 13450 crore. By May 2022, the project will have reached commercial operation and will be supplying power to the Bangladesh Power Development Board under a 25-year PPA with a net capacity of 1496 MW.
For the project, all major statutory clearances have been received. Adani Power (Jharkhand) Limited, the company's wholly-owned subsidiary, stated on November 7, 2017, that it has inked a long-term Power Purchase Agreement (PPA). Bangladesh Power Development Board has inked a 25-year PPA for a net capacity of 1496 MW. Power will be supplied under the PPA from Adani Power (Jharkhand) Limited's new 1600 MW Ultra-supercritical coal-based power plant in Godda, Jharkhand.
The board of directors of Adani Power (APL) unanimously approved the scheme of demerger of Adani Enterprises Ltd's varied companies at its meeting on January 30, 2015. (AEL). The strategy entails the demerger of AEL's Power Undertaking, which includes the undertaking's companies, operations, assets (movable and immovable), and liabilities related to the 40 MW solar power project in Bitta village in Gujarat's Kutch district, as well as AEL's investments in APL.
The company has received numerous awards and accolades. At the 18th Regulators & Policymakers Retreat in 2017, it was selected the Most Innovative Young Power Professional by IPPAI (Independent Power Producers Association of India). In Singapore, CSR Works International, with the cooperation of the British Chamber of Commerce and the Canadian High Commission, awarded the firm the award for best sustainability reporting in Asia. Srishti Publications awarded it the Recognition for Best Environmental Management Practices in 2018.
Mr. Gautam Adani, Chairman of the Adani Group, announced on March 29, 2020, that the Adani Foundation, the company's CSR arm, had donated Rs. 100 crores to the Prime Minister's Citizen Assistance and Relief in Emergency Situations Fund, PM CARES Fund. The assistance was intended to assist the government in obtaining critical relief materials like testing Novel Corona afflicted people and protective gear for frontline heroes such as healthcare and security workers.
The Adani Foundation then donated Rs. 1 crore (USD 131,849) to the Maharashtra Chief Minister's Relief Fund and Rs. 5 crores (USD 659,249) to the Gujarat Chief Minister's Relief Fund. The Adani Foundation also contributed to the COVID-19 Fund of the Kattupalli District Collector and the Bhadra District Administration.
It also contributed Rs. 50 lakhs to Iskcon Dwarka for the purpose of feeding Delhi's impoverished. Around 100,000 people in India's capital city receive daily meals from Iskcon Dwarka. Every day, the aid was expected to reach 400,000 people.
Meanwhile, Adani Parivaar, the Adani Group's workforce in India, volunteered to give roughly Rs 4 crores to national efforts to combat Coronavirus. The Adani Foundation, moved by the generous gesture, donated Rs. 4 crores to the revenues and contributed further Rs. 8 crores (USD 1.05 million) to COVID19 crisis mitigation programs.
IHI CORPORATION
IHI Corporation, formerly known as Ishikawajima-Harima Heavy Industries Co., Ltd., is a Japanese corporation based in Tokyo. It is a Japanese engineering company based in Tokyo that manufactures and sells ships, space launch vehicles, aircraft engines, marine diesel engines, gas turbines, gas engines, railway systems, automobile turbochargers, plant engineering, industrial machinery, power plant boilers and other facilities, suspension bridges, and other structures. IHI is listed in Section 1 of the Tokyo Stock Exchange.
IHI's origins date back to 1853, when the Ishikawajima Shipyard, Japan's first modern shipbuilding plant, was founded. The business was instrumental in Japan's modernization, utilizing its shipbuilding expertise in new fields such as heavy machinery manufacturing, bridge construction, plant construction, and aero-engine production.
Ishikawajima Heavy Industries amalgamated with Harima Shipbuilding & Engineering to become Ishikawajima-Harima Heavy Industries in 1960, the successor of Ishikawajima Shipyard. In 2007, the name IHI Corporation was chosen to promote the company's global brand.
IHI is dedicated to making a positive impact on society through technology, combining a wide range of engineering capabilities to address growing worldwide demands for energy, urbanization, and industrialization, as well as transportation efficiency. It is a heavy-industry producer with four main areas of focus: resource, energy, and the environment; social infrastructure and offshore facilities; industrial systems and general-purpose machinery; and aero-engine, space, and defense.
IHI produces a wide range of products. IHI continues to expand its product portfolio in all areas of human activity, from the ground to the stars, from a wide range of plants, machines, and facilities that support industry and society to more basic amenities that we use every day.
The company provides design, procurement, construction, and maintenance services for projects in the power generation, petroleum, chemicals, and steelmaking fields; engineers fabricate, constructs, and maintains bridges and expressways; builds water gates to control the flow of water in dams and rivers; and provides rotating cutter machines that excavate tunnels for subways, roads, and other engineering works, along with tunnel automatic assembly systems.
Compressors, separators, and cryogenic products are available too, along with lubricating systems, turbochargers for vehicles and ship machinery, parking and logistics systems, materials handling systems, steelmaking equipment, heat treatment, and surface engineering products, factory solutions, pulp and paper machinery, agricultural machinery, and life-related equipment.
In addition, the company sells aero engines and air traffic control systems, along with rocket systems, and engages in space exploration. In addition, it is involved in the lease and selling of real estate. It has operations in Japan, China, Asia, North America, Central and South America, Europe, and other countries across the world. IHI Corporation was founded in 2007 and was earlier known as Ishikawajima-Harima Heavy Industries Co., Ltd. IHI Corporation is based in Tokyo, Japan, and was formed in 1853.
About Kowa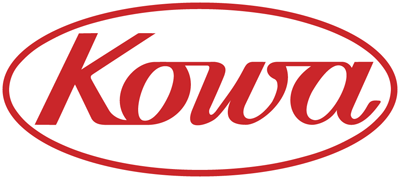 The Kowa Company is the foundation of the Kowa Group and includes Kowa's sister company, Kowabo Company, Ltd., and Kowa Pharmaceutical Company, Ltd., a combined subsidiary. Its forerunner, Hattori Kensaburo Shoten, was instrumental in the creation of industrialist Sakichi Toyoda's mechanized loom. The company is bifurcated into two divisions: trading and manufacturing. Fibers, machinery, building materials, boats, mineral resources, chemical compounds, and simple products are all traded in the trading firm section and at the same time, the manufacturing section creates medicines, medical equipment, optical instruments, and items that save energy.
Kowa medical products were marketed under brand names such as Colgen Kowa and Cabagin Kowa in state-wide TV advertising are boosting the company's brand awareness. NHK and many commercial TV and radio stations use Prominar-brand camera lenses, spotting scopes, and video equipment, which the firm makes and distributes.
The firms will investigate the viability of ammonia co-fired units to enable Adani Power's coal-fired facilities to decarbonize. At the Adani Power Mundra Coal-Fired Power Plant, the company hopes to accomplish a 20 percent liquid ammonia modification objective in co-firing, with the goal of increasing this to a ratio of up to 100 percent mono-firing. Kowa assisted Adani Power by undertaking a global survey of hydrogen and ammonia-related power generation technologies. IHI Corporation has successfully demonstrated its ammonia co-firing technology at a large-scale commercial coal-fired power station in Japan, as well as responding to several ammonia co-firing queries from throughout the world.
The alliance will strive to foster energy cooperation between Japan and India through a variety of realistic energy transitions involving all energy sources and technologies to provide energy security, carbon neutrality, and economic growth, according to the announcement. Furthermore, the parties aim to conduct parallel research and development, demonstration, and commercialization with Japan in order to achieve early worldwide adoption of the fuel ammonia supply chain.
The first phase of the National Hydrogen Mission strategy on green hydrogen and green ammonia, aimed at increasing production, was announced last month by the ministry of power. Green hydrogen has the potential to pave the way for a global shift to sustainable energy and zero-emission economies. The hydrogen produced by the electrolysis of water when the entire process is powered by renewable energy is referred to as green hydrogen.
The policy's second phase is currently being developed. Adani Group stated it hoped to become one of the world's largest green hydrogen producers before the government launched the first phase of the National Hydrogen Mission, which may help India become the world's cheapest hydrogen generator. Over the next decade, the Adani Group plans to invest $20 billion in renewable energy generation, with the goal of using that energy to produce green hydrogen.